Turmeric and ginger, better raw
Turmeric, from the same family as ginger, is cultivated throughout India and in some parts of Asia and Africa. Known for its mild, slightly bitter flavor and intense yellow color, it is used both as a coloring agent for clothes and in making curries, mustards and cheeses.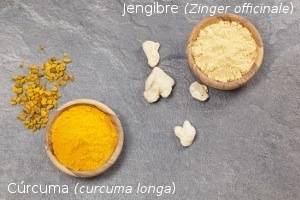 Regarding its medicinal properties, few other natural products have demonstrated a range of protection so effective as turmeric and its active components, curcuminoids. In traditional Chinese medicine, turmeric is often used for digestion and liver, to relieve arthritis and menstrual pain, treatment of stomach ulcers, etc. In addition, it is also common to apply it directly to the skin to treat eczema and other skin conditions.
But in general, among the active ingredients that stand out in both turmeric and ginger, its antioxidant properties stand out.
Now, since both products are a spice or seasoning, different "thermal" treatments tend to pass or suffer during their use, that is, it is common for them to be cooked. In this case, how does heat affect its active ingredients?
Turmeric in the fight against cancer
BCM-95 Curcumin , an active ingredient of great absorption, improves the effectiveness of chemotherapy in colon cancer, when cancer cells develop a special resistance against the chemical cocktail, eliminating said chemo-resistance.
To learn more: BCM-95-Curcumin-improves-chemotherapys-effectiveness
Test conditions
Both ginger (Zinger officinale) and turmeric (Curcuma longa) are very commonly used throughout Indian cuisine, both in the preparation of vegetarian dishes and meat dishes. In both cases, these spices are usually cooked at temperatures above 100ºC.
Based on this fact, the Indian Institute of Technology in Kampur (Facility for Ecological and Analytical Testing) has carried out a very interesting study in order to assess how the heat to which these spices are submitted during their cooking affects the antioxidant principles of the same.
The study evaluated both spices in both (dry) ground and essential oil formats. It is important to consider that both the raw extract of both spices and their oils contain more than one active ingredient, since the way in which these active ingredients (more than 40 in the case of turmeric) combine with each other, which manages to extract all the antioxidant potential of the spice.
For this, both products, powdered and also the essential oil, were heated to 120ºC for one hour, comparing the before and after.
Ground turmeric and ginger, better raw

The results of the trial showed that, in the case of ground ginger and turmeric, heat negatively affects both, significantly reducing the presence of its active ingredients.
Therefore, it is recommended as far as possible that we limit the cooking of both spices, either adding them towards the end or reserving a certain amount to add at the last moment. Another option is to look for recipes where the spice is used, naturally, without subjecting the spice to cooking.
Effects of heat on essential oils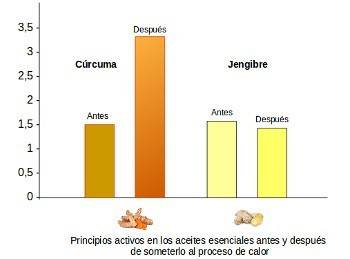 In the case of essential oils, however, it was observed that the antioxidant activity of turmeric rose very considerably, while that of ginger remained similar (although somewhat lower ) before and after the thermal process (see graphic):
Please note
The way you translate the full potential of turmeric or ginger into tangible and real benefits, is to a different extent limited by the level of intestinal absorption, the metabolism of each person -and at each moment-, etc. this being one of the main fields of current research. Meanwhile, the main recommendation should be in the line of incorporating both spices into our regular diet, thus offering our body many more possibilities of assimilating these elements.
Sources:
"CHANGE IN ANTIOXIDANT ACTIVITY OF SPICES –TURMERIC AND GINGER ON HEAT TREATMENT" Leer informe
Electron. J. Environ. Agric. Food Chem.
ISSN 1579-4377 - 1313
Vandana Tiwari, Rakhi Shanker, Jyoti Srivastava and Padma S Vankar
- American College of Nutrition
Your comment has been sent successfully. Thanks for comment!
Leave a Comment
Facebook comments