Is Grandma deceiving us with her recipe?
Grandma doesn't drop the recipe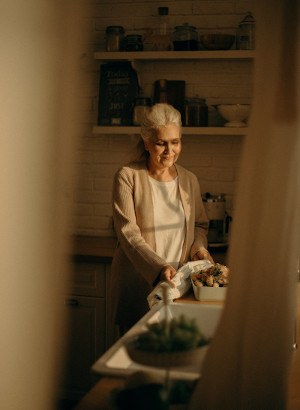 is it ugly to spy on you Grandma if she doesn't want to give you the recipe?

You prepare the sofrito by chopping -and of course with a knife- a medium-sized sweet onion, half a purple onion, a piece of leek, the tip of a bell pepper and we cook it slowly , the fire at three, without haste ... -well, it's already nine o'clock, and soon the children will be awake asking for their breakfast. While the casserole finishes its work with the onion and company, you grate a ripe tomato that you will incorporate towards the end, and while you take the opportunity to mentally go over all the steps: the chicken is already resting outside the fridge, smeared with the marinade that we have prepared crush two garlic cloves - without the seed - with a little salt, a handful of spices and a squirt of the same extra virgin oil that has always been used in your family and which is the same one that is now used in your home. But with everything, the stew or the roast will not turn out the same this time.

Your wife says that she is the same as Grandma's, but you know that no, that something still does not fit. And you go back through all the steps, one by one ... Okay, it will be a matter of "her special touch" and that she has been doing it for 40 years, but that is a poor consolation.
And it is that your grandmother, like it or not, does not want to give up the recipe. She wants you to keep going to her house every Sunday to eat, begging her to prepare that dish that drives you crazy and that you cannot imitate ... as if giving you the recipe, you were not going to come back !.
Her tricks
You flatter their roast, you slice the sauce with the bread, you burp satisfied ... and you ask - as well as in passing - for the recipe.
And your answer, in any of its variants, comes to be one of these:
Strategy # 1 - Of course darling. I'll give it to you after, remind me.
Strategy # 2 - I have already given the recipe to your mother, sister, etc. tell them to pass it on to you.
Strategy nº3 - Yes ... and quickly starts to enlist ingredients and steps (at the table, with the fork in hand and with nowhere to write ...?)
Strategy nº4 - You and her are alone, and you have paper and pencil ... she starts saying the recipe, but forgetting ingredients ( this memory of mine ... ) going back and forth , modifying the times ... hmmm
Surveillance step by step
It is clear that this is not the way. Nothing better, then, than to see how she does it, from the first step, so you plant there early:

- Oops, but what are you doing here already!
- Nothing, I've come to lend a hand, can I help you with the barbecue?
- Don't bother, take a break ...
- Grandmother, I come from home, sleeping 12 hours and it's not even 10 in the morning.
- Well, but you're going to get dirty.
- I wear an apron.
- Your clothes will smell.
- I don't care.
- Well, peel the potatoes ...
- ...
- Didn't you come to help? Well peel !.
I peel really fast, without losing sight of what she does, I'm about to lose  a fingernail ... let's see, for the sofrito we put a piece of leek, a medium onion (I feel my pocket where I have the mobile with the recorder activated. Grandma, today you can´t escape!).
- What did you say?
- Nothing grandmother, I´m humming ... (with the half-fried sauce, brown the meat, and add a small glass of dry white wine, Rueda, of course. A glass for the roast and another ... )
- Grandma, isn't it a little early to drink?
- Peel and shut up, we are many.
A subtle gesture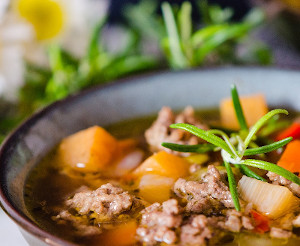 just a little rosemary to decorate...? hmm

Suddenly, in a moment of distraction ...

-Hey, Grandma! What is it that you just added ??

In a small gesture, very subtle and apparently insignificant, that many times you forget to mention when giving the recipe - unconsciously? - but what marks the difference, reach out to the cupboard and add a teaspoon of paprika "just to give it some color", or a couple of turns to the pepper mill "it is very little, not even notice", a pinch of tarragon "a hobby mine ... ", a bay leaf" gives it a grace ", etc.

And too often we tend to ignore or underestimate the importance of spices in the final result of a dish.

What we have tried to parody here, but which surely has happened to more than one, is even more than evident at this time when recipes of all kinds abound on the internet and social networks, where too many times we see a "you can add this or that spice, to taste." And it is that a dish changes radically with that "simple" gesture of adding a teaspoon of basil, rosemary, oregano, pepper, etc. as we will see in a future article that we are preparing for you. Meanwhile, you know, if a recipe does not indicate how to use spices or does not call them by name, be wary !!
Your comment has been sent successfully. Thanks for comment!
Leave a Comment
Facebook comments