Summer arrives and with these heats, proper hydration is essential. The body asks us for cold and refreshing drinks, and so that you do not abuse industrial soft drinks, during these summer months we will bring you some perfect recipes to beat the heat. Here we leave you the first of these recipes: a ginger and citrus soda that will undoubtedly quench your thirst, in addition to giving you the benefits of ginger, this almost magical root.
Recipe for ginger and lemon or orange soda
Ingredients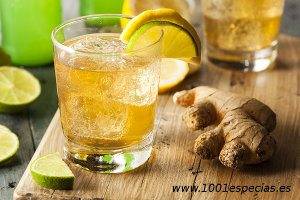 4 lemons
3 oranges
¾ cup chopped fresh ginger (not ground)
¾ cup of brown sugar
half a cup of honey
one liter of mineral water (it will depend on how you like the concentrate)
Elaboration
Grate the peel of two lemons and one orange (something like a tablespoon each), and set aside. Remember that we are only interested in the yellow or orange part, depending on whether it is lemon or orange, and not the white (softer) inner part, since it is bitter.
Bring water to a boil, a couple of cups or less than half a liter is enough, and infuse the grated or minced ginger along with the zest of the lemon and the orange that we had previously reserved, and also add the brown sugar and the honey so that everything dissolves well. Let it cool and then strain it.
This infusion that we have prepared we will mix in a large jug along with the juice of the lemons and the orange. Cover and chill in the fridge.
At the time of serving, add the water with very cold gas -do not use soda, we are not interested in the sweeteners or treated sugar that they usually use- and mix carefully, so that all the gas does not drain, and add very thin orange and lemon wheels.
You can also put part of the previous mixture in an ice bucket, and at the time of serving, chop the ice to add a very cold touch, and give it a slush look.
Of course, you can try swapping the lemon for the lime, and the orange for the grapefruit, thus preparing your own variations.
Properties of ginger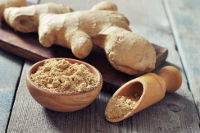 In addition to refreshing ourselves in a natural way, ginger provides us with some advantages that you will surely appreciate, since in addition to being a source of vitamins, amino acids, minerals and antioxidants, it is satiating, which will help us to control naturally the amount of food we eat.
And although in summer in general it is less necessary, you should know that ginger is also a powerful aphrodisiac !.
Variations
You can try to change the sparkling water for tonic, although in this way it would no longer be recommended for children, and also play with some liqueurs such as some toasted rum or similar. But we already leave this to your imagination.
Just a fast a tip
As always when you are going to use a spice or product for the first time, we recommend that you try it, in a small amount, to get to know and become familiar with its flavor and aroma. In this case, when you do this, you will see that the ginger is slightly spicy, with a fresh and characteristic flavor.
Your comment has been sent successfully. Thanks for comment!
Leave a Comment
Facebook comments